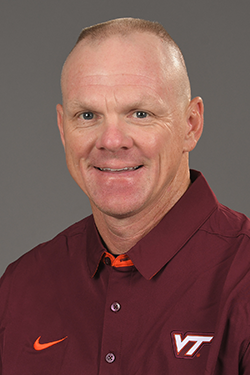 Virginia Tech Director of Athletics Whit Babcock announced the hiring of Tech's 25th head baseball coach on June 9 and formally introduced John Szefc as the head coach of the baseball program on June 15.
Szefc (pronounced SHEFF) accepted the position after leading Maryland to three NCAA appearances and a 180-122 (.596) overall record as the Terrapins' head coach. He owns a 392-259-3 (.602) career record in 12 seasons as an NCAA head coach, producing 10 campaigns with 30 or more wins.
In addition to ending a 43-year NCAA tournament drought and becoming the fastest coach to 100 career wins at Maryland, Szefc spent seven seasons (1996-2002) at the helm of the Marist College baseball program, where he led the team to four conference championships, four NCAA Regional appearances and a 212-137-3 (.607) overall mark. Szefc earned Northeastern Conference Coach of the Year honors in 1997 and was the American Baseball Coaches Associate Northeast Region Coach of the Year in 2001.
The first coach in Maryland history to ever take the Terrapins to an NCAA Super Regional, Szefc accomplished the feat twice in 2014 and 2015 as he guided the program to the first two 40-win seasons in school history and claimed Maryland's first two NCAA Regional crowns. Maryland achieved a final No. 14 ranking both seasons, the highest finishes in school history.
He guided the Terrapins to the ACC Tournament final for the first time in 38 years in 2014 and then took Maryland to the Big Ten tournament final in the school's initial season in that conference, winning a program-best 42 games in 2015.
Szefc has coached 97 players that have been drafted or signed professional contracts since 1997, including six selected in the 2017 MLB draft. Over the last five drafts, 25 of his players have been selected, including the 45th pick of the 2014 draft Jake Stinnett, the highest pick of a Maryland player in almost a decade. He has also helped develop 23 All-Americans, including 10 of the 20 players in Maryland history to earn that distinction.
The Middletown, N.Y. native arrived at Maryland after a two-year stint as associate head coach and recruiting coordinator at Kansas State (2011-12) and a two-season stay as assistant head coach and recruiting coordinator at Kansas (2009-10). He also enjoyed a six-season tenure as an assistant coach and recruiting coordinator at Louisiana-Lafayette (2003-08). Szefc began his coaching career as an assistant at Sacred Heart (1995) and at Drexel (1990-93).
Szefc managed the New York Generals in the Atlantic College Baseball League during the summers of 1995 and 1996. He led the club to a 47-28 record, earned two consecutive division titles and the ACBL title game in 1996.
Collegiately, he played two years at Connecticut before transferring in 1987 to Drexel. During his senior campaign for the Dragons, he was tabbed an All-East Coast Conference outfielder.
He graduated from Drexel University with a degree in corporate communications in 1989. He also holds a master's degree in sports administration from Temple University.
Szefc and his wife, Barbara, have a daughter, Anna, and two sons, John Michael and Sam.